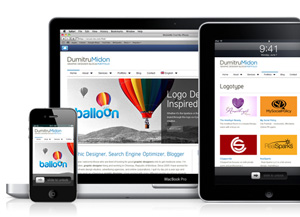 Affordable Web Design Services
My mission is to help your website gain benefits from my own easy, cost effective and dynamic web solutions. I have already met the needs of many companies that are based around the globe and i believe i can do it for you as well.
NEED A WEB DESIGN?   Get Free Quote View Portfolio
---
Testimonials
Dumitru was there for us form birth of the brand to the website creating. He created a logo we felt in love with from the first site (no changes were made to the firs version proposed). We needed a website that sale to the young, educated, always busy people, eager to experience new and fun activities. For this kind of audience we needed a special website that would be easy to use and navigate, where all the important information is brought upfront, and as a consequence – sales the products and services we feature. Dima understood the task and enhanced all the wanted features beautifully. The website was created to make navigation for the users as simple as possible. More attention was given to the deal of the day page and client support pages. The design he created is modern and brings up the important information, creating a simple and effective approach to boosting sales. We would recommend Dumitru to all the businesses that need a high professional web designer with a modern and cutting edge point of view and a great team player.

Glibiciuc Mariana (PR Manager, www.E-Redus.ro)
Right Decision
You have made the right decision in choosing me for your project. I'm really confident that my web design service can be of real use to your project.
Though the process of selecting the right service provider is not an easy one, you have undoubtedly made a right decision in placing your faith in me.  I offer web related services because i really like small businesses to help improve their web presence and image.
It does not really matter if your company is a big or a small one, my web solutions will surely be directed towards improving your web presence.